Guestbook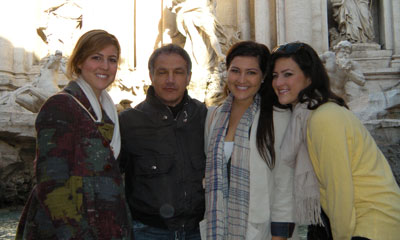 • Hello Antonio!
I'm so sorry we have not written, however we talk about our trip often. Me, Elise, Kaylee and Candice think of you fondly and hope all is well.
Thank you again for such a wonderful time in Rome. You took us to the best food, people and places. Oh and let's not forget that you helped us make our flight on time. Here are a few pictures for you to see and remember the fun time.
Blessiings,
The Caster girls.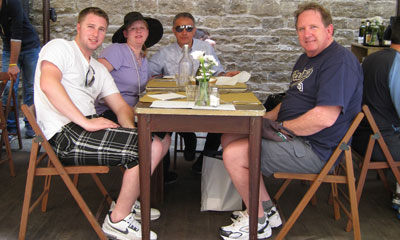 • Hi, Antonio.
We all wanted to thank you for making our trip to Italy fantastic!
It felt like a friend was showing us around instead of a stranger.
I want to thank you again for being so understanding that last day when I was not feeling well.
You were so sweet even when I had you pull over and put us all in danger of being hit on those narrow, windy roads.
You were so good with Matt and Katie too.
They enjoyed being with you as much as Tom and I did. When we said good-bye and I walked away I had tears in my eyes.
I hope we'll see each other again someday.
Until then, ciao.
Mary Hart
P.S. Tell Ricardo thanks again for a great tour of Pompeii.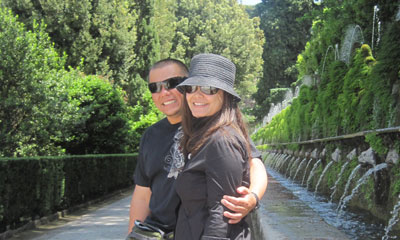 • Antonio, Buongiorno!
"Touring Rome and the outskirts of Rome with Antonio was an experience of a lifetime. We wanted to go on an "off-the-beaten-track" tour to get the full experience of the country, its culture, its people and its food; and that is exactly what we got. Antonio gave us straightforward insights of the places we visited as well as shared with us secrets that only locals are mostly privy to. He made us feel very much at home and gave us a tour that made us fell like "we were visiting the city with an old friend". He was warm, accomodating and above all Antonio is a new found friend who gave us a glimpse of the best his country had to offer. Will definitely come back for more and recommend him to all who want to see Italy on a more "personal level" PLUS...we never lined up!
Pam.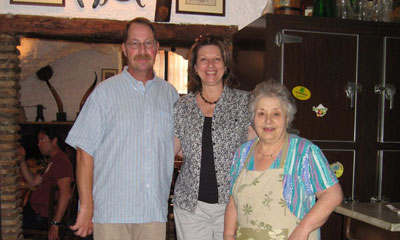 • Ciao Antonio!
Lou and I had a wonderful day in Rome and were so glad to have you as our guide. We were looking at the photos last night and the ones at Trevi Fountain are great! We made it home late Sunday night and are on our way back to work today.
Thanks again and all the best to you!
Warm regards,
Lisa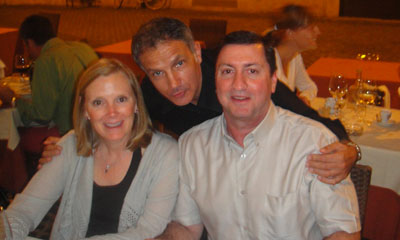 • Good Afternoon Antonio,
I hope all is well in your world. Rich and I wanted to thank you again for such a wonderful day with you - it was by far our favorite day in Italy.
We loved Civita di Bagnoregio and Orvieto so much - they were such beautiful little villages. Your passion for those places made it all the more interesting and fun for us. We especially enjoyed the lunch in Orvieto - it's at the top of our list for favorite meals in Italy.
We have so many great memories and definitely plan to get back to Italy within the next couple of years. If you ever visit the United States, please stop by and visit us in Philadelphia. We can show you around this area - not quite Italy, but it has it's own beauty. Please stay in touch - we enjoyed all of your stories!
Ciao,
Cindy and Rich
• Dearest Antonio,
Grazie, Grazie, Grazie...a thousand times Grazie! We cannot thank you enough for taking the best care of everyone yesterday. I spoke with my brother and they had such a great time with you. Debbie said, "Antonio saved Rome for us." No one EVER expected any discount for your services and time, although it was greatly appreciated, it was quite unnecessary.
We are looking forward to Cinque Terre, Pisa, Assisi, etc., but mostly we look forward to experiencing it with you! Food, wine, hiking, La Dolce Vita and the best compagnia. Again, thank you amico and fratello for your kindness and generosity.
Warmest abbracci from us both,
Natalie & Michael
• Antonio,
I received such glowing reviews from Kimberly and Sylvia about their Italy trip, and especially their day with you.
THANK YOU THANK YOU for doing such fine work and making us agents look cosi' bene!!
I hope we will work together again soon
Ciao, ciao - Mary
• Hi Antonio,
We had an AWESOME time with you in Italy!!! I can't wait until we can return for another vacation in the future. We loved Positano and the Amalfi coast, Florence, Rome, Venice … ah, such wonderful memories. But there is Tuscany to see again, too .. the wine & cheese tour! Say 'hi' to Francesca and Michaela for us – they were great guides as well! The rest of our cruise was wonderful and we had a fabulous time – but Italy is still my favourite place in the world to visit.
I have some friends who are travelling to Italy in the near future, so I gave them your contact info.
Take care and keep in touch.
Ciao, Kathy Wilkie.
Kathy Wilkie, BHA, MLT
Registrar & Executive Director
College of Medical Laboratory
Technologists of Ontario.
36 Toronto Street, Suite 950
Toronto
• Greetings Antonia from Minnesota!!
We want to let you know we arrived home safely and everything went well on our return.
It is very cold and snowy at home!!!
Thank you again for making our travels to Italy so wonderful! We really enjoyed spending 3 days with you. We learned so much history and saw so many fantastic sights. The kids say that one of their favorite things in Italy was touring with you!!!
I have visited with Curt, Walt and Tracey since our return, and told them how much we enjoyed our days with you!
We hope to return to Italy someday and see you again on our next visit. We will recommend your services to any friends who are traveling to Rome.
We invite you to visit Minnesota any time of year. We enjoy all 4 seasons here!
Thank you again and Happy New Year!
Jan, Dave Lauren, Cole and Brittany Jessen
• Dear Antonio:
Thank you, again, for your excellent service yesterday and especially for today's fabulous tour of Rome.
Maureen and I have travelled all over the world and you are, without doubt, the best driver/guide we've ever enjoyed.
We've given one of your business cards to the Maitre d'Hotel at Relais Fontana di Trevi, with a suggestion to encourage its guests to contact you.
I'll also hereby giving your contact information to our Toronto travel agent, Carlson Wagonlit.
We'll suggest to friends travelling to Italy that they take advantage of your services.
Finally, if anyone asks you for references, please feel free to recommend that they e-mail me at
Tom.Hopkinson@guycarp.com
Kindest regards from Maureen & me.
Tom
• Ciao Antonio:
Just a quick thank you for yesterday. It was a memorable experience and we thoroughly enjoyed our tour and appreciated your attention. Too bad about the Florence traffic. It made the day very long for you. I will definitely give your name to my travel agent as she has many clients who travel to Italy and would enjoy your personalized tours as much as we did. Thanks again.
Best Regards,
Glenda, Debbie and Wendy.
• Hey Antonio- My mother and I are safely home and I am trying to get caught up on my email. What a fabulous time we had- a lot of it attributable to your excellent care. My mother still talks about you and may in fact try to adopt you. Thank you, too for making her time in Italy truly special.
I haven't forgotten the pictures I owe you of your Ferrari drive. Will send in the next few days.
Carol Meharry.
• As a busy travel agent in Toronto it is so reassuring to know that I can recommend Antonio Pica and Guide to Italy with absolute confidence.
After their experience with Guide to Italy our clients return raving about what an amazing and charming driver and guide Antonio Pica is. He knows all the major attractions but also the undiscovered gems of Rome and will take you places you've never imagined. You will not be disappointed.
Susan


• Antonio,
It was such a pleasure to meet you. We really appreciated the time and the experience we had with you. We absolutely loved Italy. Here are a couple pictures from the trip. Please keep in touch and let us know if you ever plan to come to the states. Take care. Talk with you soon.
Ciao,
Natalie and Mike

• Antonio,
Thank you for making our visit to Roma so memorable. You were so kind to us and our children and you went beyond what any other guide would have done.
We loved seeing Roma at night, walking and picnicing on the Appian way, seeing the aqueduct, the catacombs, the cappucine monks bones and all the fabulous places you took us to.
We especially loved our dinner out together and gelato from your favourite place!!! MMMMmmmm! We haven't had any gelato or icecream that good since returning home!
You were informative and sensitive to our needs and your kindness and caring was so appreciated. Please stay in touch and we will continue to recommend your services to all those we know heading to Italy! Ciao,
Sandra and David

• Dear Antonio,
I wanted to thank you for the wonderful day you spent with us in Rome.
We all keep talking about how you were the best guide we had on our trip.
Your knowledge, enthusiasm, and sense of humor made the day very special.
Talking to other people on the cruise ship, no one else saw as much or learned as much as we did. I only wish we had more time.
I definitely would love to come back and see more.
I have passed along your card to the travel agent who booked the cruise for us and suggested she have her clients use you services.
Janet Ray

• Ciao Antonio,
Hope all is well with you and your family.
We talk about our trip to Italy everyday and your name comes up all the time.
Giuseppe and Adelina always say that the favorite part of their trip was the day you took us around Rome.
You were a tremendous guide, but more importantly made us feel special. We have many wonderful pictures and memories of our trip and you are one of the people we will never forget.
I have given your name to a few friends who plan on visiting Italy next year so hopefully they will give you a call if they want the best.
I would love to send you a card that my wife put together, but I need your address.
Please e-mail me your address so that we can send you our Christmas card.
I will try and e-mail you some pictures from our trip, but I am just learning how to do that. It was wonderful to hear from you and I hope we keep in touch.
Buon Natale e Felice Anno 2008!!
Ciao,
Franco, Lisa, Adelina, Giuseppe

• Buongiorno Antonio,
Come Stai?
It was a pleasure to have you as our guide in Italy.
L'Italia mi piace moltissimo.
Thanks to you, our tirp was magnifico. You showed us so many beautiful places. We have such wonderful memories of our trip.
You were more than a guide, you were a friend. I can't believe that it has been almost a year since we met you. I am glad that we still keep in touch.
We definitely plan to visit Italy and you again soon. When you come to the United States, please be sure to call us. We will go to dinner and show you the sights here.
Pat and George look forward to being with you. Again, mille grazie!
Continue to keep in touch.
Ciao,
Lisa and Gregorio
Liz Kwasnicki

• Antonio,
We just returned from our trip to Europe. The highlight was the time in Italy, and especially meeting you.
Our trips to Pompeii and along the Amalfi Coast and the stop in Orvieto on the way to Siena were highlights to us.
Ciao,
Mark, Marti, Mark Alan and Ellison Thomas